Security Measures
To keep our Airshow patrons and the base community safe, Marine Corps Air Station Yuma have implemented a safety policy that limits the size and type of bags that may be brought to the Yuma Airshow.
The Yuma Airshow requires that ALL Airshow patrons bring their valid ID. ALL Foreign Nationals MUST bring their passport for entrance into the show. We strongly recommend that patrons implement these security measures to help enhance public safety and make it easier for our Military Police team to screen and check all bags, backpacks, and more.
With respect to others, we are encouraging patrons to not bring any unauthorized items (outlined under "Prohibited Items"). This will help keep the entry lines continuously flowing upon your arrival to the Yuma Airshow and any hindrances will create congestion at the front gates. The Yuma Airshow wants to make sure that every patron can enjoy and have a unique airshow experience. We thank you for helping us make it easier for everyone else.
Permitted Items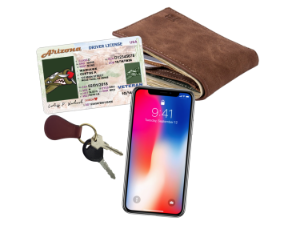 To expedite the search and screen process, it is recommended that you keep your ID and personal items organized with the following: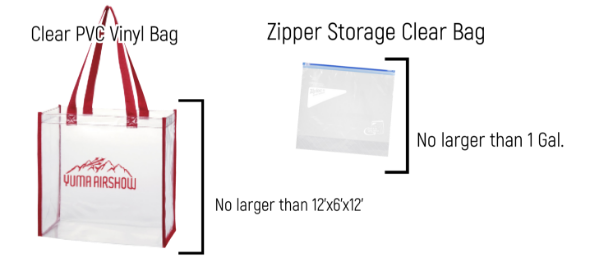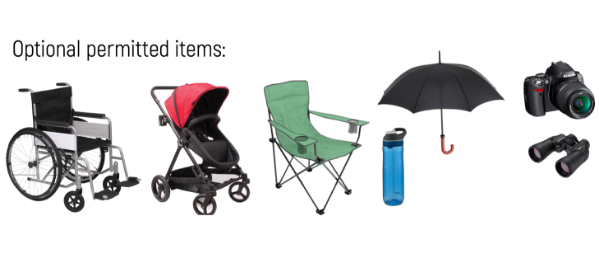 Wheelchair, Stroller, Folding Chair, Empty Water Bottle, Umbrella, Camera & Binoculars
Prohibited Items









We ask for your cooperation in keeping potentially dangerous items safely outside the base. ALL bags will be quickly inspected, and all individuals are subject to search prior to entering the airshow flight line. If you elect not to return these items to your vehicle and choose to leave them at the security check point, we will not be responsible for the return of the item. These measures are being taken to ensure everyone's safety.
Bags, purses, totes, backpacks & other types of baggage other than bags conforming to the new Security Policy will not be permitted.
Weapons of any kind (regardless of permit) to include but not limited to firearms, knives (including pocketknives and multi-tools), replica or toy weapons, pepper spray, mace, stun guns, and martial arts weapons.
Outside alcoholic beverages.
Ice chests or coolers that are not medically required.
Pets, other than service animals.
Glass containers.
Bicycles, roller skates, roller blades, (kick and electric) scooters, skateboards, or hover boards.
No personal drones (i.e., quad, or hex copters) are allowed to operate on Federal Property or airspace.
Lasers or laser pointers.
While coolers/ice chests are NOT permitted, an exception will be made for medically necessary items after proper inspection at a specified lane at each gate.
Federally banned substances such as illicit narcotics.
Any other item(s) that in the judgment of MCAS Yuma personnel believes poses a safety hazard or diminishes from the enjoyment of the Yuma Airshow by other patrons. (handled on a case-by-case basis).
Recommended Items

Come prepared for an amazing time at the show! We recommend bringing a pack equipped with the following:
Sunscreen, Ear Protection, Comfortable Shoes, Sunglasses, Empty water bottle, Hat/Visor
Pay Attention - Watch where you are walking. Trip hazards are everywhere. Stay aware of your surroundings and watch for moving vehicles.
Drink Water - Stay hydrated. Water will be available throughout the Airshow area. Refreshments are normally available, but you may bring a water bottle to fill from our free water stations. If you are drinking alcohol, please drink in moderation as alcohol can cause dehydration. Do not relay on sugary drinks for hydration.
Plan For Noise - Jets can make a lot of noise so we strongly suggest you bring earplugs or ear protection especially for the little ones.
Designated Smoking Areas - Please smoke in designated areas only. Anyone smoking outside of the designated areas will be directed to the smoking areas.
Be Prepared - Find out where you can get medical aid or seek assistance if you need it. If you are in a group and you get separated, where will you meet? If you have children with you make sure they know how to get help if they get lost.
Frequently Asked Questions
Q: Do I HAVE to bring a clear bag?
A: No, the clear bags are RECOMMENDED for an expedited search and screen process at the entrances of the show. Any bags that are not clear must adhere to the 8.5x11 inch limit, and ALL bags will be searched for prohibited items.
Q: What should I bring to expedite my search and screen process?
A: This year, our Military Police Team is searching and screening EVERY patron upon entry to the Yuma Airshow. We recommend bringing a clear bag for faster screening, but it is not required. A Valid Government Issued ID is required, such as a Driver's License or Federal Government ID. If you are a foreign national, please bring your passport for identification.
Q: Can I bring food and bottled water?
A: No, you may not bring food. You are allowed to bring a water bottle with you.
Q: Once on base do I have to remain there until the end of the show?
A: You are free to come and go between the Scheduled Airshow times. Please note that there will be heavy traffic to come aboard MCAS Yuma on Airshow Day.
Q: Can I bring lawn chairs and folding chairs?
A: Yes, we want you to be comfortable as you watch the entertainment.*
Q: Are there activities for the kids?
A: Yes, there will be a static display area that kids can climb in and out of some aircraft and many sponsors will have interactive booths in the Vendor Village*
Q: May I bring my pet?
A: No, only service animals will be permitted. For your animals safety, do not leave them in the parking lot or in your vehicles, we will ask you to take them back to your residence, and we do not want you to lose your spot in line.
Q: Will there be restrooms nearby for handicapped?
A: Yes, there will be facilities available.
Q: Will ATMs be available?
A: Yes, ATM's will be in the spectator areas.
Q: Where do I buy VIP seating tickets the day of the airshow?
A: The ticket booth for VIP seating will be located near the Grandstand Seating area.*
Q: Where is the first aid station?
A: The first aid station is located near the Static Display Area.*
Q: Will there be free water?
A: Yes, there will several water stations available throughout the event. We recommend you bring an empty bottle to fill up.
Q: In an emergency, what do we do?
A: In any emergency, we ask that you stay calm and dial 9-1-1.

Q: Will there be a Twilight Show in 2023?
A: Not this year. Please join us on March 11th for the day show! Sign up for our Email List to receive information early!
Parking
Q: Do I have to purchase a parking pass if I am handicapped?
A: No, there is free parking available, and there is handicap parking in all the parking areas. You may purchase premium parking as a convenience if you so desire. As you enter the parking areas, please make sure your handicap sign is visible for the parking attendant to see or inform the parking attendant as you enter the base that you require handicap parking. All parking areas will have ADA shuttles for handicap patrons.
Q: Will I be able to access the base if I do not have a US license plate or license?
A: Yes, if your vehicle is currently registered and insured. Vehicle may be subject to search.
Q: Can I drive my RV onto the base?
A: No, unfortunately, due to space and parking locations, MCAS Yuma will not accommodate Recreational Vehicles.
*subject to change without notice.