Bag Policy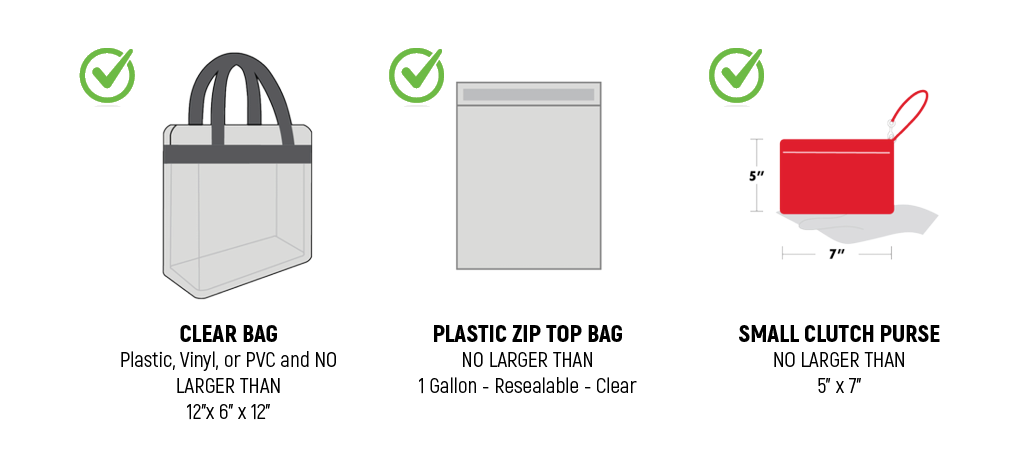 Only clear bags or a small clutch are permitted on the flight line.

One large clear bag is allowed per person.

A one-gallon zip-top style bag, commercially purchased clear bag, or small clutch for personal items is permissible.

Patrons can purchase clear bags for $5.00 at the air show. The bags will be available for sale at Free General Parking and outside event entrances.
Permitted Items
Be prepared to show photo identification—Non-U.S. Citizens – official passport required (no photos).

A one-gallon zip-top style bag, commercially purchased clear bag, or small clutch for personal items is permissible.

You may carry keys, makeup, feminine products, comb, phone, wallet, credit cards, etc., in your pockets if you avoid putting them in a clear bag or clutch.

Folding chairs.

Wagons and strollers.

Service animals that meet the American Disabilities Act (ADA)

guidelines

.

Binoculars/cameras. Camera bags will be searched.

Diaper bags. Bag will be searched.

While coolers/ice chests are NOT permitted, an exception will be made for medically necessary items after proper inspection at a specified lane at each gate.
Prohibited Items
Standard size backpacks, large purses, totes, and other types of baggage other than bags conforming to the Clear Bag Policy will not be permitted.

Weapons of any kind (regardless of permit) include but are not limited to firearms, knives (including pocket knives and multi-tools), replica or toy weapons, pepper spray, mace, stun guns, and martial arts weapons.

Outside alcoholic beverages.

All smoking materials, including vape pens and lighters, will be confiscated at the flight line entry points.

Ice chests or coolers that are not medically required.

Pets, other than service animals.

Glass containers.

Bicycles, roller skates, roller blades (kick and electric), scooters, skateboards, or hoverboards.

Personal drones (quad or hexacopters).

Lasers or laser pointers.

Tents, pop-ups, canopies.

Hand umbrellas are allowed but are NOT authorized in the Grandstands Seating area at any time.

Tailgating/BBQ.

Illicit narcotics, CBD, and marijuana are Federally banned.
Safety
Aircraft Safety
Do not touch or climb on any aircraft unless you are invited to do so by the aircrew.
Remember that trash can be sucked up into aircraft engines, damaging the aircraft and endangering the pilot's life. Please keep the flightline litter-free by using the trash receptacles provided for your convenience.
Watch for tent ropes and aircraft tie-down chains.
Observe all signs, including the ones that say, 'Do Not Touch.'
First Aid
Drink plenty of fluids.
Apply sunscreen often. Temperatures on the flightline typically are higher than normal. Bring a hat to protect the top of your head.
Take time out to rest during the day.
First aid tents will be set up on the flightline. Look for the tents marked with a red cross.
Additional Security Information
When arriving aboard the Air Station, we ask that you pay strict attention to road signs and directions by Military and Civilian law enforcement personnel. All guests should be prepared to show identification if requested by official air station personnel.
There will be designated entry points to enter the public show area. These will be the only points that spectators will be allowed to enter. For everyone's safety, do not try to enter from any other point.
Please pay careful attention to all signs and announcements, and be patient. These procedures are in place to ensure the safety of those attending the Air Show.
If you elect not to return these items to your vehicle and choose to leave them at the security check point, we will not be responsible for the return of the item. These measures are being taken to ensure everyone's safety.
ALL INDIVIDUALS ENTERING THE FLIGHT LINE AREA THROUGH THE ADMISSION GATES MUST PRODUCE VALID IDENTIFICATION AND ARE SUBJECT TO SEARCH.
Accepted forms of Identification
U.S. Citizens

​State Issued Driver's License
U.S. Passport Card​
U.S. Passport
U.S. State Department Driver's License
Military Dependent ID card
Veteran ID Card
Military Retiree ID Card
Common Access Card (CAC)
Foreign Nationals

​Passports are the only ID accepted for non-US citizens.